A few years ago, we published a list of 7 top-notch books on innovation. Since then, sequels have been released and our field has evolved, so it's time for us to make a few additions. Without further ado, here's our list of the best books on innovation around (all of which are essential reads for our team with superpowers – candid pic of me above).
By Clayton M. Christensen and Michael E. Raynor
The Innovator's Solution: Creating and Sustaining Successful Growth
The Innovator's Dilemma by Christensen and Raynor famously explained why companies fail and gave us a formula for predicting when it would happen. Its follow-up, The Innovator's Solution, uses practical tips and examples to show you how to stop it from happening. You'll learn to solve the innovator's dilemma by building a disruptive-growth engine within your company, enabling you to hopefully anticipate growth areas before they become sinkholes.
Creative Construction: The DNA of Sustained Innovation
Every innovation professional will relate to this book. Pisano, the Harry E. Figgie Professor of Business Administration at Harvard Business School, breaks down how innovation typically happens in corporates, discusses common problems, and shows you what to do about them. Our very own Mike Pinder adapted a version of Pisano's disruption matrix to create the Innovation Landscape Tool.
101 Design Methods: A Structured Approach for Driving Innovation In Your Organization
If you're looking to shake up your workshops and can't find what you're looking for among our innovation tools, this should be your next stop. 101 Design Methods is a cookbook of essential tools and design methods. It will help you develop innovative new products and services with your teams.
By Marc Stickdorn, Markus Hormess, Adam Lawrence, and Jakob Schneider
This Is Service Design Doing
Find out how to get your hands dirty and put the ideas behind service design thinking into practice. As the name suggests, This Is Service Design Doing will walk you through setting up workshops, breaking down silos, and instilling a customer-centric mindset within your company from a Service Designer's perspective.
The Lean Entrepreneur: How Visionaries Create Products, Innovate with New Ventures, and Disrupt Markets
As an intrapreneur working at a big corporate, it can be easy to lose sight of what's truly valuable to your customers. Read The Lean Entrepreneur to reset your approach. It'll enable you to put yourself in an entrepreneur's shoes, adjust your thinking, and execute in the leanest possible way.
Sprint: How to Solve Big Problems in Just Five Days
This 5-day Design Sprint how-to guide by creator of the Google sprint process Jake Knapp is renowned across the innovation industry. We used it as a building block for our own design sprint but found that the lack of focus on empathy at the beginning of the process made it a higher risk approach than we wanted. By launching our design sprint process with more thorough problem exploration and solution validation, we managed to reduce the risk significantly. Based on experience, we also streamlined the process for experienced project teams to save time and ensure early solutions are validated within just 3 days.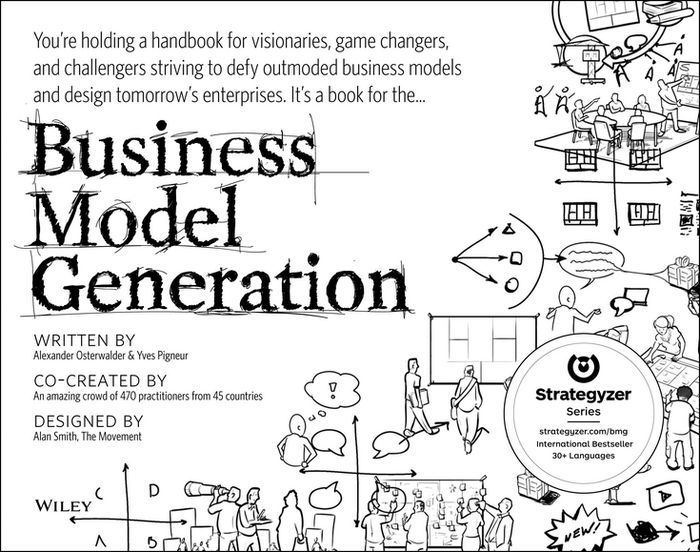 By Alexander Osterwalder and Yves Pigneur
Business Model Generation: A Handbook for Visionaries, Game Changers, and Challengers
If you're running business model innovation workshops, you should check out this guide. There are a number of business model canvas variants, but this is arguably the most actionable version. It explains how you can use the business model canvas to innovate your business and shows you how to experiment iteratively as you go to market. Keep in mind that it's not an ideation tool (that's where our Business Model Kit comes in) – you actually need to prototype your models before you snapshot them with the business model canvas.
Service Design From Insight to Implementation
This book explains how service design fundamentally works and provides a bunch of great examples. It's a good read and will show you the benefit of using service design as a diagnostic tool. After checking it out, we'd like to hear your thoughts on where in the innovation process you think service design adds value, where it duplicates efforts, and whether it has crossovers with other methodologies. Send us a message on LinkedIn – we're looking forward to receiving your insights!