When we decided to change our headquarters in Antwerp, we wanted it to be an innovative office and have our spirit front and center. We wanted to make our culture of dynamism and non-obviousness come alive.
Therefore, we engaged Space Refinery, an interior architect firm, to help us create our new oasis. They focused on creating a space where we would feel at home, and where there was room and flexibility for a variety of activities; focused work, meetings, collaboration and innovation, and relaxation. 
Space Refinery has done an impressive job of transforming a historic 1900s building into an inspiring and modern workspace; a space where the Board of Innovation spirit lives and is instantly felt from just walking through the front door.
Space Refinery incorporated the old building elements with their new and fresh design to create an innovative office space, fit for an innovation consultancy!
Throughout the space, there are custom-made furnishings, bold colors, natural materials, and plenty of plants – even plants growing out of the walls.
As an ode to the Board of Innovation teams, the office space includes elements and characteristics of each team. For example a life-size gorilla, and a red mustang (cut in half) – just to name a few.
Our team worked closely with Space Refinery to infuse our culture through unusual decor elements, graphics, and custom solutions.
The ground floor: welcome to boi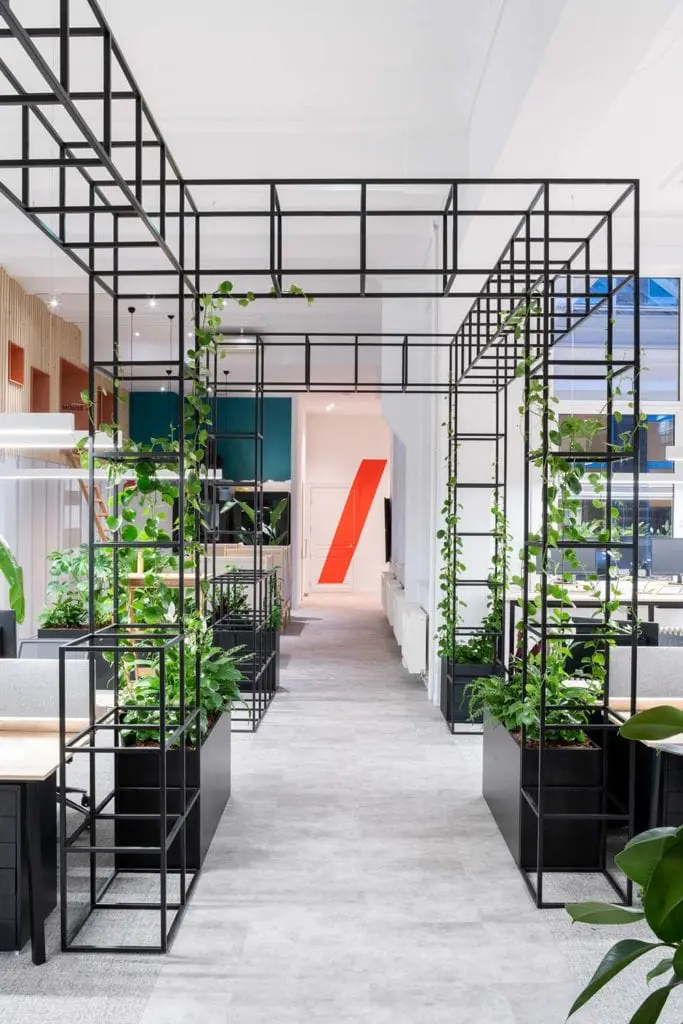 Our entry area on the ground floor acts as a welcome cafe, lounge area, and breakout space. It also includes bigger meeting rooms for external and internal meetings and brainstorming sessions.
At the back wing of the building, there's an area dedicated to reenergizing; a treehouse overlooking another cozy lounge with canvas seats and jungly plants. Inside the treehouse, there is a dedicated space for power-naps, unwinding, or contemplation, to make sure we can reenergize throughout the day! 
Where we spent most of our time is in our open space, where our desks are surrounded by plenty of plants to positively impact our creativity. Pre- and post-COVID, no desks are fixed and we'll sit where we feel most inspired that day. The area has an airy and uplifting feel, that doesn't feel office-like, while supporting focused work.
The third floor: game on!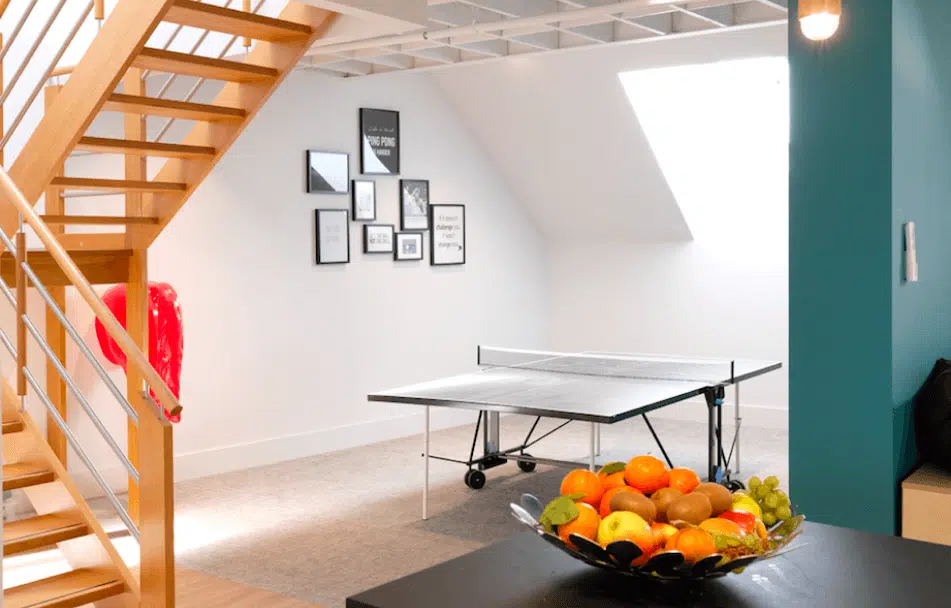 The third floor is dedicated to disconnecting from work, refueling, and relaxing with the team. Like a master bedroom, "this is where the magic happens"; this is where we unwind, disconnect, and where creativity flows across teams.
The area has a terrace, perfect for sunset sessions and after-work drinks, a large cafe-bar, and a fully equipped kitchen. There's also a play area with a ping-pong table, and a tribune for team presentations or projecting movies.
The fourth floor: the sky is the limit
The fourth floor is set up for interactive workshops – it's a place to exchange ideas, so we nicknamed it "The Arena". With its high-energy feel, flexible furnishing, and fully equipped streaming and recording setup, The Arena is always ready for business design sessions. 
The walls are painted cosmic blue to suggest that "the sky is the limit".
Our new innovative office is designed to welcome a team of unconventional thinkers and doers. In short, we are thrilled with the work and results crafted by Space Refinery.
We can't wait to welcome you to our new headquarters, post-COVID, to co-innovate for a better future!
Are you the amazing company that we'll share our innovative office with?
We are looking for an inspiring company to come share our office
with us on our unoccupied first floor.