Achieving maximum positive social impact through change is an often highly complex, long-term and multifaceted process, involving numerous stakeholders. Social impact initiatives are often bursting with ambitious vision, but lack clarity on how to achieve their ultimate goal. When a plan is in place, participants and stakeholders tend to be over-optimistic about the odds of success.
Board of Innovation re-designed the traditional Theory of Change model to create a more visual and straightforward model that allows you to keep track of your ultimate goal, how you'll get there and where you're at – at any given time. By taking the vision as a starting point and working back from there, you're able to identify all the steps critical to increasing your chances of success.
Once you're up to speed on how the model works and what you can achieve with it, Board of Innovation helps you to launch your change initiative. By using our comprehensive and easy-to-use workshop template, you can design your own Theory of Change model while maximizing collaboration with all stakeholders involved.
Putting the model into practice
How the Theory of Change model helped Roche launch Movement Health 2030
Board of Innovation is partnering with Roche and local partners to drive positive systemic change in Latin American healthcare ecosystems.

Linking a long-term strategic goal, such as increasing continuity for patients with comorbidities, with tangible actions raised certain challenges. That is when we decided to re-design existing Theory of Change frameworks to simplify an impactful strategy for a highly complex and ambiguous environment.

The initiative to improve Latin American healthcare systems by 2030 was recently launched, and our Theory of Change model showed its worth in the process.
1. The challenge: finding a methodology for change
If you want to have positive social impact through systemic change, you'll need to get everyone involved on the same page. Funding, coordinating and leading such a project requires:
To achieve this, you'll need a consistent approach that helps you stay on top of the process at all times. Board of Innovation's Theory of Change model is designed to provide you with an understandable, user-centric and straightforward overview of where you're going, and how to get there.
2. Theory of change: what is it and when is it useful?
The Theory of Change (ToC) model is meant to capture organizations' ambitious strategies to create positive impact, describing both the how and the why of the desired change in a particular context. It links the core vision to tangible short-, medium- and long-term outcomes, activities and resources. It's a widely collaborative process where stakeholders are invited to share their views on the problem, making it a multi-dimensional challenge with a high level of complexity.
Organizations can leverage the Theory of Change model in multiple contexts, when a comprehensive, change-driven initiative is formulated and launched. Implement it when:
The model also offers great opportunities for fostering collaboration within groups of stakeholders, by helping to define everyone's position. And if you're looking to evaluate plans halfway through a project, or to document lessons learned in the final stage of a project, this model will also help you do so.
3. What makes board of innovation's theory of change model unique?
Whereas Theory of Change models are often linear and overly complex, Board of Innovation set out to develop a tool that is far less complicated to use than its counterparts. We streamlined the existing framework, and combined it with the flexibility and agility needed to operate in complex and ambiguous environments.
The secret to moving forward without losing sight of the main mission is to move backwards from your ultimate goal, gradually identifying the conditions required for the goals to materialize. 
Between what a change initiative achieves through its activities and interventions, and how this will ultimately achieve the intended goal, lies the "missing middle". By first identifying all the conditions that need to be in place in order to reach the goals set, you'll need to determine a Pathway of Change, a logical sequence of steps towards your end goal.
Our Theory of Change model is based on the traditional approach, but differs in critical ways. It offers a more systemic approach, integrating a feedback loop for iterative thinking with a clear and understandable graphic representation.
Finally, the integrated feedback loop helps to verify the consistency of the different steps, and that you are on track to achieve systemic change.
The missing middle: a closer look at the movement health 2030 experience
Let's zoom in on what that "missing middle" looks like in the case of the Health Movement 2030.
For the "Sustain" workstream, the initial outcome was a sustainable organization, scalable across Latin America. When we first added it to the model, our goal was to launch a successful regional initiative, but there was no visibility on what the financial, legal or organizational structure would look like. The Theory of Change model quickly highlighted the gap between our position at the time, and where we wanted to be.
With that information in mind, we defined "Setting up an interregional operating model and the development of international funding partnerships" as a key intervention. This allowed us to understand that something critical was missing: a scalable and agile governance structure, supported by regional teams spread across the different work streams (or "chapters").
The implementation of that governance structure ultimately became the main building block to design the finance, legal and operational models of Movement Health 2030 worldwide.
4. How a windmill facilitates the winds of change
Let's take a closer look at the structure of our Theory of Change model. With a bit of imagination, you can think of it as a windmill. The three complementary wings ensure stability and balance in the bigger picture, and are equally critical to the success of the project. For Movement Health 2030, the three wings were defined as "impactful", "sustained", and "engaged" – however, the content of these wings can be tailored to the change initiative at hand.
Each wing requires stability itself: it needs to be structurally sound throughout, and well connected to the core. All building blocks need to be interlinked: the outer-tip of the wing is made up of inputs (resources, capabilities, team, and stakeholders), while the base symbolizes the outcome (the long-term goal), and the core is the impact vision.
Like a real windmill, when the wind starts to rise, its movement can be sustained over a long period of time. When the movement for change is significant enough, it can become self-sustaining with sufficient funding. 
5. Let's get to work: designing your own theory of change model
Let's take a closer look at how you can give shape to your Theory of Change model. Board of Innovation developed a self-explanatory workshop template that allows you to design your own custom Theory of Change model.
This unique tool makes it possible to merge the insights and input of all stakeholders involved. We recommend you use it collaboratively, integrating the diverse perspectives from everyone around the table.
The resulting framework can be continuously used to implement and evaluate the impact model. Through a feedback loop, the assumptions and pathways are sure to stay on track, to achieve the desired long-term vision. 
The Theory of Change workshop template is designed to be iterative. You'll be able to update the information as the project progresses. Want to work on or adapt a specific intervention? Then you can follow the template to track how exactly it connects to your vision.
Throughout the process, you'll notice that team dynamics will improve and that stakeholders' positions will become aligned around achieving a shared goal.
Discover the ins and outs of our Theory of Change model
Interested in putting our straightforward model to the test? You can! Dive into this Theory of Change redesign and download the workshop template and tool.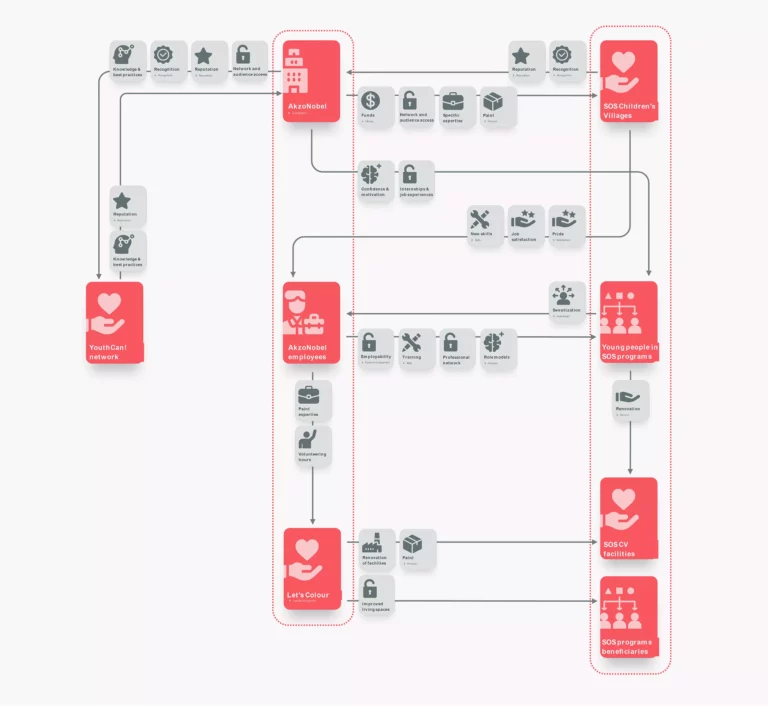 Learn more about creating social impact with partnerships
Check out our new comprehensive guide to creting business-nonprofit partnerships that drive change.