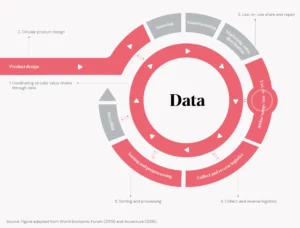 Coordinating circular value chains through data
Creating products, from recycle to reuse.
Globechain is a B2B marketplace for reuse across multiple industries, like construction, hotels, offices, medical, restaurants, and retail. Organizations no longer needing assets (like furniture, equipment, or office supplies) list them on the platform, where they're requested and collected by other companies. Globechain makes its revenues by charging membership fees.
Building As Material Banks(BAMB) is a platform for identifying the value and material markup of buildings throughout the building cycle, from planning and construction through occupancy, repairs, renovations, repurposing and decommissioning. The initiative is still searching for its sustainable business model to capture, maintain, and exchange data between businesses and stakeholders in the building-materials value chain.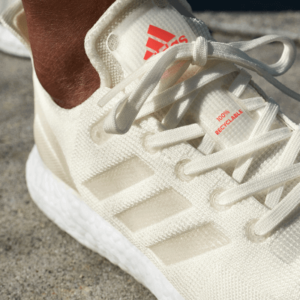 Planned for a Spring/Summer 2021 release, FUTURECRAFT.LOOP is Adidas' first running shoe that is "made to be remade." The high-performance running shoe was carefully designed with manufacturing and recycling partners so that "it can be returned to Adidas, broken down and reused to create new performance running shoes."
Protix upcycles food waste into sustainable protein for fish, chicken, and pets. The Dutch company invested €35 million in an industrial-scale production facility where it uses food waste to breed blackfly larvae, which it harvests to form high-value insect protein products.
Unlock the power of AI in a unique sprint format. Leverage the latest AI tools to generate new ideas, get real-time feedback, and curate new concepts to move forward with.
Use, reuse, share, and repair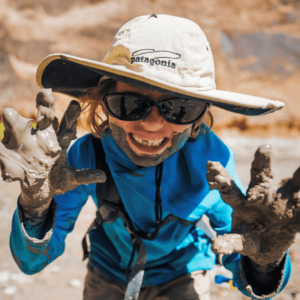 Circos is "a subscription model for baby clothing (and maternity wear) where members pay a monthly fee to access a range of high-quality clothing from different brands, delivered to their door." As babies outgrow clothing, it is returned, cleaned, and redistributed to another customer – eliminating waste and capitalizing on the clothing value, all while creating convenience for customers.
Philips Refurbished Systems – Philips enables hospitals to upgrade their medical equipment (like MRIs and CT scanners) by trading-in their old equipment for a discount on new systems. Philips refurbishes and upgrades older equipment and sells it again. This business model helps hospitals get financial returns on their older equipment while efficiently upgrading to the latest technology. It also enables Philips to reach different customer segments with affordable, high-quality systems. This is an excellent example of a reuse business model that doesn't necessarily require a lease construction.
Collection & reverse logistics
Close the material life-cycle loop by creating products that can be upcycled, repurposed, and re-sold
Extending the useful lifetime of materials, parts, and products across several customers. Re-Tek collect redundant IT equipment for medium to large organizations in the UK and Europe. They can remarket 80% of collected goods, enabling them to share revenue with the equipment's previous owners. This revenue allows them to harvest spare parts and work with recycling partners to address the 20% remaining obsolete goods. Through their business model, 99% of electronic systems they collect are diverted from landfills.
H&M partnered with I:CO* to collect 29,005 tonnes of textiles for reuse and recycling. H&M's customers return used clothing to the stores, receiving a discount voucher for future purchases at H&M. I:CO* collects the clothing and sorts it into three categories: rewear (sold on the second-hand market), reuse (turned into other textile products like cleaning cloths), and recycle (turned into textile fibers for things like insulation). Although not disclosed by H&M, we assume each collected textile category creates revenue streams for I:CO*.
Finding alternative value in the parts that make a product whole.
Urban Mining Co (UMC) is the first US commercial recycler of rare NdFeB magnets (present in hard disk drives, speakers and headphones). Despite containing rare materials, NdFeB magnets are often thrown away, ending up in landfills. UMC uses a patented process to reprocess the scrap magnets into custom made magnets.
Mr Green Africa is a Kenyan plastics recycling start-up. They buy collected used consumer plastics and industrial waste as feedstock and sell recycled plastic pellets of different colors and qualities. They have recently received an undisclosed amount of funding from DOB Equity (Dutch family-backed investment organization active in East Africa) and Global Innovation Fund (partnership with Unilever) to scale their business model.
Learn more about circular business models
We offer practical resources to innovate to reach a circular economy business model.