When we imagine and create new products and services, we use advanced conversational models AI systems like ChatGPT and Bing AI as our co-pilot. Both systems use large language models based on GPT-3.5 to generate natural and engaging responses to prompts. In this article, titled 'ChatGPT vs. Bing AI: Comparison,' you will find 20 innovation use cases and a side-by-side comparison of both models' responses to our prompts.
1. Strategy with Bing and ChatGPT
prompt: Assume you're a VC investor for a health tech fund. In which disease areas is there most room for distruption?
prompt:
Assume that you're the CEO of a start-up working on a B2B mental health platform and you're specifically targeting your offering toward tech companies that are headquartered in the USA. For a presentation, you need to size the market and you're looking for numbers on TAM (total available market), SAM (serviceable available market), and SOM (serviceable obtainable market). Please share some initial ideas on how you would go about estimating TAM, SAM, and SOM including some potential sources for data. Please limit your answer to 200 words.
prompt: I'm interested in mental health. Could you share 10 start-ups that focus on prevention in that space and who recently received a large funding round?
prompt: Thanks – could you share a PESTEL analysis on a B2b service that provides mental health in the workplace, such as Fika, focused on the US market in a table format?
Unlock the power of AI in a unique sprint format. Leverage the latest AI tools to generate new ideas, get real-time feedback, and curate new concepts to move forward with.
2. Insights with Bing and ChatGPT
prompt: Assume you're an employee of a tech start-up struggling with anxiety and experiencing early burnout syndromes. Can you provide some insights – written in first person – about how that employee is feeling in their day to day and how it's affecting their work?
prompt: Suppose you're a global coffee category manager for a multinational food and beverage company. One of your strategic priorities is to increase market penetration with Genz customers. Please share a high-level (max 150 words) brief for a market research agency.
prompt: What are some at home coffee drinking trends that became popular around the world during the COVID-19 pandemic? Please share the countries or regions where the trends originated.
prompt: I'm planning to conduct in-depth individual interviews (IDI's) with GenZ customers to better understand their jobs to be done and current pains around the at-home coffee-drinking experience.
Please share a short problem exploration interview script I can use as a starting point for my interviews.
prompt: Can you outline what a consumer journey could look like on Thrivefy? Please outline in a table format the key phases, key touchpoints during each phase, 1 or 2 jobs to be done per phase and potential pains and gains per phase.
3. Ideation with Bing and ChatGPT
prompt: Assume you're the product manager of a B2B mental health start-up. You need a name to test your value proposition in the market. Please share a list of 30 potential names in a table including potential URLs. Prioritize names that are brandable or that use an alternative spelling.
prompt: Let's go with Thrivefy/Mendi for now. I'm looking to explore different potential value proposition.
Please share 10 different value propositions all with a maximum of 144 characters.
prompt: Let's assume that our main value proposition is focused on employee retention. What would be some potential key features of the product that we should consider testing?
4. Validation with Bing and ChatGPT
prompt: Can you list the top 5 assumptions about desirability (will this solve a real need for B2B buyers and their employees), and viability (will we be able to create a viable business model to support the service)? Please outline the results in a table with 1 column for desirability assumptions and 1 for viability assumptions.
prompt: Could you create a simple (max 100 words) experiment design I could use to test the assumptions around the viability of CAC (customer aquisition cost)?
prompt: Create a simple experiment design to measure price sensitivity towards speciality coffee products of Gen consumers using a conjoint analysis.
prompt: Assume that you're the CEO of a start-up working on a B2B mental health platform and you're specifically targeting your offering toward tech companies that are headquartered in the USA. You want to get some initial validation from start-up management (CEO/COO) and HR leaders (CPO, CHRO, Culture Lead, etc.) and plan an automated outreach over Linkedin. Create 3 different potential personalized messages to send over Linkedin with the goal of setting up a short meeting.
5. Business models with Bing and ChatGPT
prompt: Share 5 ideas to create additional revenue from the B2B mental health support model beyond the fees companies would pay for the service.
prompt: Please create a simple business model canvas for the B2B mental health support platform in a table format.
6. Go to market with Bing and ChatGPT
prompt: Assume that you're the CEO of a start-up working on a B2B mental health platform. You have tested out different value propositions and you have a functional MVP. The next step is getting paying customers. Outline a brief go-to-market plan to get to the first 100 paying customers.
Get first paying customer
prompt: Please draft 3 sample messages for a LinkedIn outreach for Thrivefy/Mendi with the following value proposition: " Empower your employees to reach their full potential with our proactive mental health support system" highlight the opportunity to participate in a free trial.
Comparing Bing Chat and ChatGPT
Bing Chat clearly outperforms ChatGPT in terms of recency (it include up-to-date information whereas ChatGPT only includes data up until 2021), accuracy (it is more precise in the information it provides), and sources (it includes actual sources for the information it provides). On the other hand, ChatGPT offers more in terms of flexibility – as it is a bit more versatile in the questions you can ask, and it allows for more than 8 consecutive questions whereas Bing is limited to that. In short – Bing Chat is the winner here.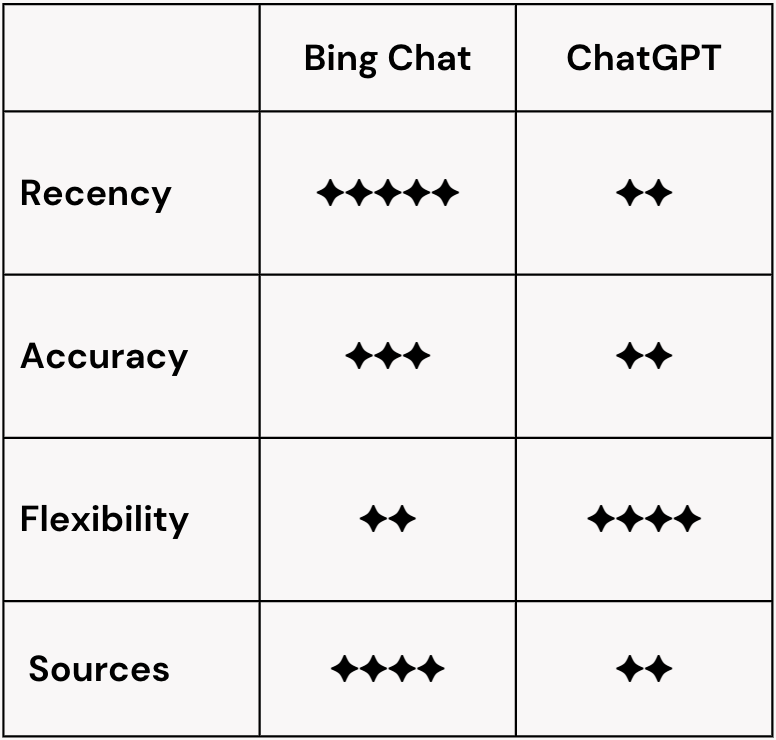 Bing vs ChatGPT - which is the best co-pilot for innovation
ChatGPT and BING chat mode are both impressive examples of conversational AI that can handle a wide range of innovation use cases. However, BING chat mode has access to more recent data and allows you to consult the main sources for the information it shares. ChatGPT is more creative and versatile, but also unpredictable and inconsistent. For now we will probably default to BING chat mode and revert back to ChatGPT if we need an extra edge.
Discover AI-powered Innovation and Design
As an innovation agency, we are here to share our knowledge and help you discover what's next in AI-powered innovation. Join us on our journey and unlock the potential of AI.