Healthcare Validation: say what now?
Let's start at the beginning: what exactly is market validation? We define market validation as a way to confirm your assumptions regarding the desirability, viability or feasibility in order to de-risk the success of your innovation – in that order.
This applies to the entire development process. At any stage, you can encounter a critical assumption that you have been making about your customer, user or market that if proven wrong is putting your innovation at risk.
In the past, experimentation around products and services in healthcare and the life sciences has focused on feasibility assumptions.
For example, clinical trials are a form of experiment that is both high-effort/high-cost and is concerned with validating feasibility assumptions. It provides confirmation of high-risk assumptions such as 'this is safe' or 'this is effective.'
Today, however, those same companies conducting clinical trials are also developing solutions (both physical and digital) focused on adherence, communication, and management. These need to be designed with the user problems and behaviors front and center. And that means validating assumptions you are making about your solutions desirability first.
The 3 most common barriers to validation for health innovation teams
We would be lying if we said it was an easy capability to apply: we have seen our healthcare and life-science clients struggle with this shift towards early, lean experimentation. Why? Their organizations are simply not designed for this way of working and testing.
So let's focus on changing that, and look at 3 stages of the development process where we have identified barriers for corporate health innovation teams – and take a look at how to overcome them:
Validating that you are working on a solution to solve the user's biggest problem
Designing B2B experiments to validate customer interest and priorities
Managing compliance and regulatory involvement for in-market testing
1. Validating that you are working on a solution to solve the user's biggest problem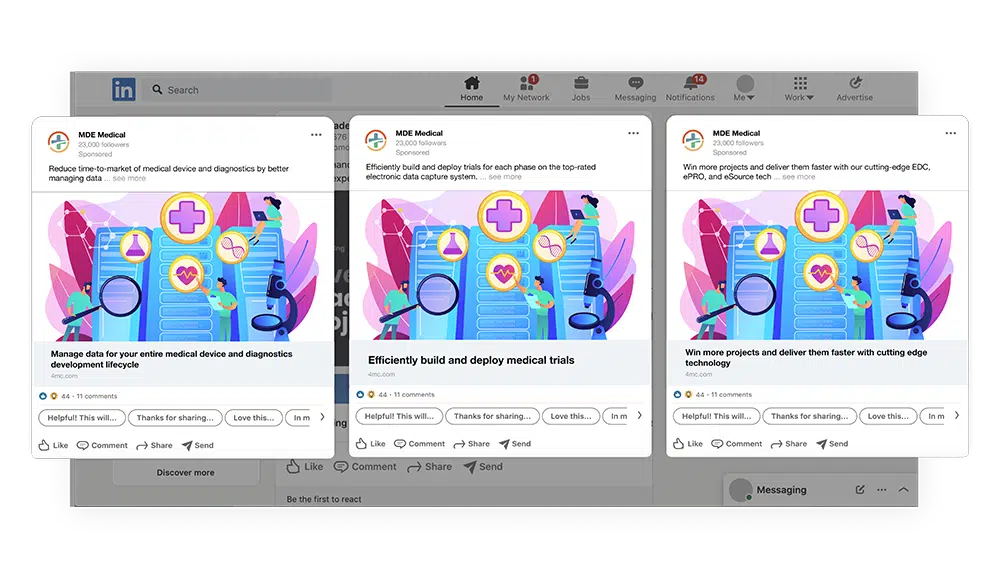 If you are not already testing the assumptions that you are making about your user, then you are already behind. Everything from how you understand the patient journey to how your solution will improve the patient journey.
Validating these assumptions upfront will benefit everyone – your project team, the business, the patient, and the entire healthcare ecosystem. If you don't, you will build something that is convenient for you, but not necessarily for your user and customer.
At this stage, you will need to focus on validating the problem space and your solution's value proposition.
But how exactly should you test this? One option is to run smoke tests on social media to access large sets of the B2C population. Set up an ad campaign about the problem framed as your solution's value proposition. Each ad represents a different value proposition that you believe you can provide to the user. And yes, do this even if these propositions' feasibility hasn't yet been validated!
When you run the ad campaign you will be able to reach your users (often Linkedin in B2B context) and understand which problem matters most to the user based on which ad has the highest CTR (click-through rate). You may even gain further insights into your target audience.
This smoke test will allow you to…
Understand which triggers drive the activation of your customers
Prioritize your solutions' value propositions
Validate personas or better segment customers
There are also alternatives to this smoke test. You can choose to set up a landing page with value propositions and/or a list of features, and measure clicks and mouse movement to create a visual heat map of the page such as the one below.
This quantitative data on significant population sizes will provide you with a clear picture of how different populations behave. That will allow you to confirm or pivot your solution based on in-market evidence.
If you want to delve into how that works in practice, check out how we teamed up with Ferring to prioritize the value proposition of their latest digital health solution.
2. Designing B2B experiments to validate customer interest and priorities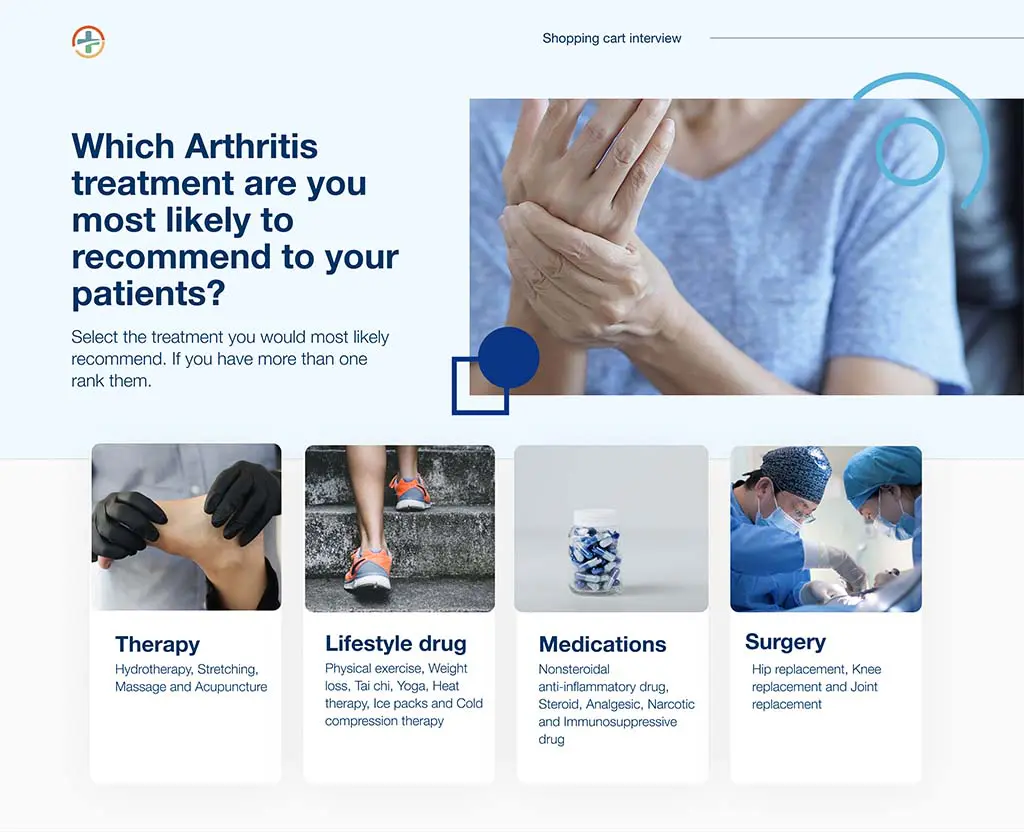 There are two key challenges to quantitative B2B validation in healthcare:
You are working with a smaller number of customers
You will have more difficulty accessing them
Rest assured, experimentation is still possible! The real value of B2B experimentation lies in the fact that you'll gain access to reliable qualitative data.
One way to validate a desirability or viability assumption for a highly specific B2B customer (e.g. Rheumatologists with traditional prescribing practices) is to couple a digital prototype with a customer interview. Be sure to have specific questions prepared to help you evaluate your assumption afterwards: many teams fall into the trap of asking generic questions about the solution rather than the problem.
This qualitative B2B experiment will allow you to…
Understand the why behind the decisions and actions of a B2B customer
Gather behavioral insights about the customer
Build a relationship with a potential customer and involve them in future co-creation
Another way? You can also create a simple 30-second explainer video which provides an overview of your solution. This will allow you to collect feedback from a small number of customers via survey or interviews. And if you want to take it one step further, launch the video and track where each viewer pauses the video or whether they watch the entire clip?
Here's a great example of a B2B explainer video from Australian patient-engagement platform HotDoc.
Expert tip: try to leverage existing ecosystem relationships to recruit participants for these kinds of experiments. But if you want to talk to HCPs, go beyond KOL, to get feedback from your target users rather than just experts that you have easy access to.
3. Managing compliance and regulatory involvement for in-market testing
Experimentation in healthcare admittedly raises a unique set of both legal and ethical challenges from a compliance and regulatory perspective. The benefits that in-market experimentation has to offer – such as speed to market – are business incentives that do not align with your compliance officer's aim. Acknowledging these differing incentives is the first step towards approaching this new capability with the necessary sensibility.
Involving your compliance teams early is critical. It will allow you to better gauge what they are and are not comfortable with. If quantitative digital experiments on social media or search engines are outside of their comfort zone, propose solutions that allow you to meet them halfway. For example, reposition the experiment to target HCPs as opposed to patients directly.
Another experiment that is welcomed by our clients is running off-brand (or unbranded) campaigns: rather than plastering your company's branding on an ad that is gauging interest in a new digital solution for patients with arthritis, providing an off-brand alternative such as the ads below will put the focus on the service itself rather than the brand's credibility.
Some target patient populations require extreme caution, for example in the mental health space. Remember, the goal of experiments is not to mislead anyone. So if you are gauging interest in a certain need via an ad campaign, make sure to direct that person to a resource, such as an existing serving or article, that will be valuable for them.
When in doubt, validate your assumptions
Early experimentation is essential to build powerful health products and services. Without it, your team's decision making is based on unvalidated assumptions or market research that doesn't capture behavioral insights. Since there are so many ways to design experiments, it takes experience and support to get started and navigate these barriers.
If our experience guiding clients through experimentation has taught us anything, it's that when in doubt, validate your assumptions. Your users, customers, and business partners will thank you when the innovation succeeds.
Do you want more info about how we might help you with validating your healthcare innovation and ideas?