Innovation strategy for enterprises.
Are innovation initiatives scattered haphazardly through your organization, duplicating work or chasing opposing goals? Are your resources not being used efficiently and therefore not making an impact? Is it unclear who is taking ownership of different innovation initiatives?
The goal of innovation program design is to find answers to innovation strategy challenges by co-creating a structured innovation process tailored to your organization. We collaborate on the design and roll-out new processes to achieve your strategic innovation goals. We draw on case studies from our experience, as well as the lessons of process design, to make your innovation process a success.
What to expect from our innovation program design.
Understanding your market and position
Before jumping to strategy and action plans, we help organizations find their strategic position in a competitive environment.
List of opportunities for growth
Through scenario analysis and opportunity scans, we identify the most valuable paths for growth.
Innovation mission statement
Many organizations lack a clear mission statement and measurable objectives for their innovation strategies. We help identify clear goals and align the organization around those goals.
No-bullsh*t innovation strategy blueprint
Instead of 200-page Word or Powerpoint documents that no one will read, we prefer a straight-to-the-point, actionable strategy document.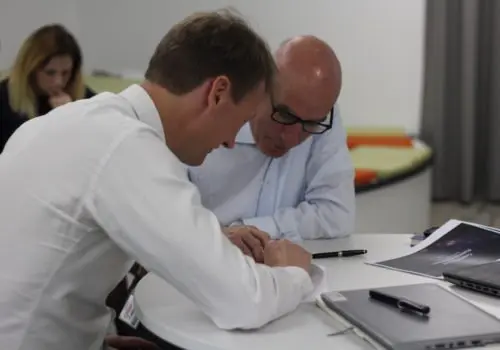 A 3-step process to design your ideal innovation strategy.
We don't use a traditional consulting approach. Instead, we apply proven Design Thinking principles and other modern frameworks of innovation management. Both new and existing innovation programs can benefit from these strategies. From in-house accelerators to external design sprints, our goal is to improve and accelerate the rollout of innovation programs.
During strategic innovation sessions, we use innovation frameworks to structure the discussions and to capture insights. Experienced innovation strategists guide every session.
We examine a variety of successful innovation cases to learn from the lessons and perspectives of different organizations inside and outside your industry.
Board of Innovation will conduct in-depth interviews with key stakeholders in the organization. We then create an overview of the existing organizational culture, mapping innovation activities onto a structured framework. This allows us to identify the innovation archetype that fits your organization.
Results
Understanding your market and position in it
Clarity on the current culture and organization
Map of current innovation activities and impact
The team will perform explorative research inside and outside your industry to find signs of disruption. This gives us a strong overview of key market trends and drivers for change.
During an inspiring session, your company will get insights from multiple startups and corporates who executed successful innovation strategies.
Results
Team is inspired by multiple cases of successful innovation strategies
Overview of your key market trends and drivers for change
List of opportunities for growth
We co-create an innovation mission statement based on insights from the deep-dive and exploration phases. We translate this mission into a structured blueprint of activities and priorities for your organization. Each activity will have clear goals and metrics to ensure its impact. Finally, we build an action plan for the first pilot initiative.

Results
Innovation mission statement
Structured blueprint for growth
Action plan for the pilot initiative