Flexible go-to-market support.
Sometimes speed is more important than coaching internal employees. We get it. There are always tradeoffs when building ventures, and you probably want the best possible leader to lead your team at the critical time. You might have tried working with internal project managers, but they didn't get why you needed to talk to customers, or you might have hired freelancers but couldn't find one who could work outside a narrow area of expertise.
What you need is someone who is good at customer development, experiment design, and business modeling. Someone who spots gaps in the market and comes up with non-obvious solutions. Someone who can translate solutions into testable assumptions.
We know it's not easy to find someone who can not only give a presentation about all of the above, but also execute it while leading the team. We've been hiring people who fit that profile for 10 years at Board of Innovation, and we have built up a team of serial entrepreneurs who have gone through the venture design process more than 10 times.
With our "entrepreneur in residence" program we can provide a co-entrepreneur who joins your team 1-4 days per week to keep everyone focused. 
Most of the time, this person will steer the validation of critical business assumptions in the first months of your new corporate venture.
Strengthening your corporate venture teams' innovation muscles.
Clarity on target customer
Who's your customer? What is their current situation? What could you improve upon to help them?
Spotting gaps in the market
Is there really an opportunity in the market or are you chasing another flop?
Coming up with non-obvious solutions
The first idea that comes to mind is unlikely to be the best one. Creativity is crucial in this process.
Translating ideas intro testable hypotheses
What are the most critical assumptions about the solution?
What experiment can you run to validate or invalidate the assumptions, requiring the smallest amount of time and money?
What's a smart way to capture some of the value you are creating to make this initiative worth pursuing?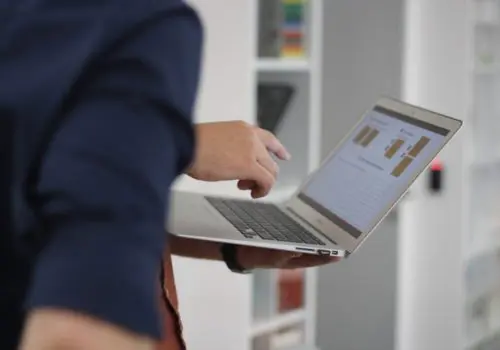 Ready to accelerate your venture?
Hire one of our entrepreneurs on a short-term basis to join your core venture team. Our clients usually hire us for a variable period between 1 and 4 days per week. The format we prefer is 4 days a week as this makes the venture move as fast as possible.
Our entrepreneurs have close ties with different startup ecosystems and have the entire global Board of innovation team on speed dial. In order to blend in and find partners, suppliers and other resources to help you out, we will use our extensive network to find a solution.
Our lean entrepreneurs are not standard consultants, but talented people who like to get their hands dirty. They will inject an entrepreneurial mindset to your corporate startup.
Based on the maturity of your venture, we choose the best entrepreneur to fit your needs.
What are the questions that need to be solved for your team?
Trusted by Fortune 500 and global innovators.
Board of Innovation makes Fortune 500 companies innovate like startups, mixing proven methods from design thinking and lean startup strategies.