The retail pharmacy ecosystem map
Did you know, an average person goes to their pharmacy eight times more often than they go to their doctor? This makes the visit to your corner pharmacy the most frequent interaction in the entire healthcare system. Not only is it the frequency of visits that makes the pharmacy critical to care, but also where it sits in the healthcare ecosystem. The pharmacy is actually the central node, operating at the nexus of patients, providers, payers, and manufacturers.
While any attempt to visualize the different stakeholders and their relations will inevitably result in an incomplete and simplified model, taking the time to map out these stakeholders and their interactions provides us with a great tool to identify opportunities, add additional context to the number of trends that have been in play within the pharmacy ecosystem in the US for a number of years, and explain the development of new business models accelerated by the COVID-19 pandemic.
Three shifts in the pharmacy ecosystem
The retail pharmacy can best be described as a platform. That is a model that connects and creates value between two or more interdependent groups, usually consumers and producers. In the past years, incumbent players have expanded their portfolios beyond traditional pharmacy into health and wellness, lab testing, and specialized health services. However, we are seeing an uncoupling effect (as shown by the pharmacy-related start-ups map (1), allowing for greater convenience, expanded access, and personalization to meet new customer needs and expectations. This uncoupling is driven by three major trends, which cover three major pain points:
Download our retail pharmacy ecosystem map as a PDF and get instant access to the online Miro board.
Direct to consumer represents an uncoupling of pharmacists, technicians, store clerks, and the last mile delivery, removing brick and mortar from the equation. The pharmacy system in the US has an increasing number of direct to consumer brands who place patient relationships at the heart of their business strategy and offer a frictionless experience more often associated with software startups outside the pharmacy ecosystem.
Mail order pharmacy has existed for quite some time, but the spotlight has shifted since to direct consumers with Amazon's acquisition of Pillpack. Since then, other upstarts like Capsule are offering faster, more convenient services with same day delivery. These companies like Capsule in NYC and Ro have attracted serious investments with predicted growth associated with this opportunity area.
Changing patient behavior and the shift to a low touch economy made the immediate and hassle free delivery value proposition compelling overnight. New York based Capsule for example saw it's demand for same day delivery of prescription drug triple in March.
Incumbents should take note and design a last mile patient-centric delivery system from the ground up while they can still leverage their market share even if this means cannibalizing their existing brick and mortar business model.
In April 2020, the unemployment rate skyrocketed to 14.7 percent, representing its largest increase since they started measuring unemployment in January 1948. This number amounts to an additional 15.9 million Americans without jobs and likely having to find new ways to obtain health insurance. (2)
While COVID-19 has accelerated this sea change, more people will begin to question the actual cost of their care. Traditional insurance can be extremely opaque with co-pays (a fixed fee you pay when you receive covered care like an office visit or pick up prescription drugs), long explanation of benefits, and is not typically customer centric, so one way to address this pain point is by removing this stakeholder all together.
In this environment, an unlikely challenger has entered the marketplace, the Walmart Health Center. You can look at the relationship between density of Walmarts and uninsured populations and understand why this makes sense.
They already have the luxury of ubiquity, brand reputation, and a constant stream of foot traffic, so an extension into healthcare services does not take a leap of faith for customers to consider. Currently, Walmart Health is mainly offered in Georgia, but they are certainly one to look out for for expansion into other markets.
Another great example of "cash for care" is GoodRX and other savings clubs for consultations and prescription meds. GoodRX does a great job of introducing price transparency and showing customers how much they are saving by using their service. GoodRX acts like an aggregator, where consumers can search for the medication they need and choose which retail location they want to fill their scripts. GoodRX also now offers HeyDoctor, a 20 dollar telemedicine consultation to complement their main offering.
With payers normally dictating the menu of options for, cash for care models represent a shift in equilibrium towards the consumer. It will be interesting to see if these services can acquire and activate enough customers to make these models sustainable and if more incumbents will begin to offer more cash for care services.
End to end data integration
If you only think of the pharmacy as the place that tells you when your refill is ready and dispenses medication, you are drastically underestimating their importance in the ecosystem. One of the most important objectives of the pharmacy is adherence, which means helping patients take the right doses of medication at the right time to improve health outcomes. Pharmacies are measured on their ability to help patients stay adherent and stay compliant with their therapy, however, there are many internal and external factors that make up the adherence equation.
Adherence is critical because of its impact on the entire healthcare system. Low adherence leads to poor health outcomes, increased hospitalization costs, increased costs passed onto the patient, and more. Experts estimate that between $100 and $300 billion of avoidable health care costs have been attributed to poor adherence every year. (3)
Once you understand the importance of adherence, you can start to map out the relationship between the pharmacy, payer, provider, and pharma. Most importantly, you can understand why it is so hard to measure what happens in-between visits and fills. This is why creating end to end data exchange is so important.
For years, innovators have tried to introduce smart pill caps, pill reminder apps, and systems to help connect the dots between refill and therapy, but it is still an area ripe for disruption. (4)
With the value proposition of "A dose of calm for the whole family," Hero health introduced the caregiver as a critical stakeholder to improve medication adherence. Not only does Hero offer smart dispensation technology and inventory management to make sure patients do not miss a dose, they also offer a caregiver log-in to monitor care. Even with the introduction of Hero, the ultimate question remains: whose responsibility is it to help patients remain adherent between doctors visits and pharmacy visits?
Another way to tackle end to end data integration is by using data and behavioral science to address adherence. Omada health does this for two chronic disease states, for type two diabetes and hypertension. With demographic, social, and behavioral factors making up many of the variables in the adherence equation, this seems like a promising attempt.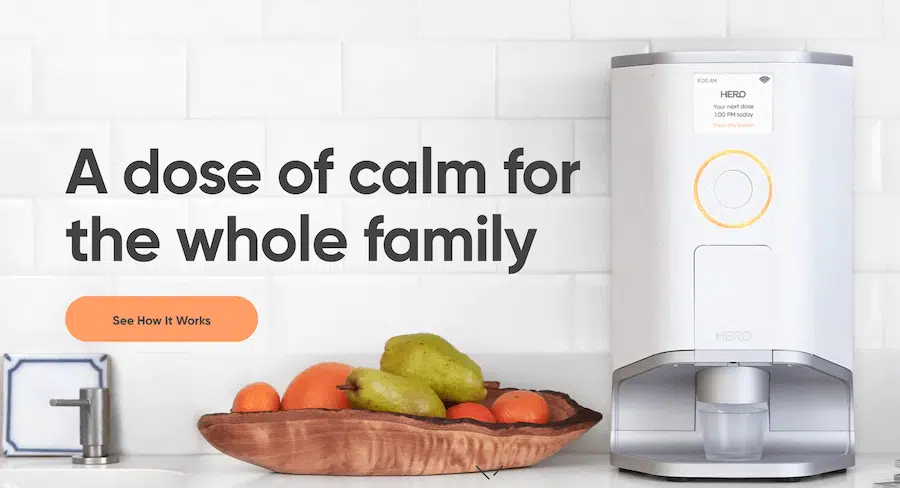 Where does this burden fall and how does the pharmacy continue to play a critical role, based on where they sit in the ecosystem, to help integrate this data? The aforementioned Capsule offers adherence reporting for physicians under the tagline "Doctors love capsule." Companies can introduce all of the smart pill caps, robots, and notifications, but ultimately, they may still not represent the full picture and may still not change behavior.
Incumbents should pay attention to the growth of this field and look at how they can integrate their platforms to offer end to end data integration with payers and providers. These new start-ups can offer the agility and the enhanced development capabilities they need without having to build new technology in house. Challengers should continue to identify these shifts in medication management as a way that removes stigma, is highly personalized, and is interoperable within the current healthcare ecosystem.
We are publishing this article and this toolkit because like many others, we want to see positive changes to the current model. In today's environment, healthcare simply needs to be better, with lower costs, more convenience, and improved access.
The three trends that we discussed are already having an impact, yet with so many stakeholders, it's easy to lose sight of how everything is connected. The ecosystem map will help you navigate your next strategy and develop new opportunities.
Want to map and shape your healthcare ecosystem?
In less than a week we map your current ecosystem and co-create a strategy to improve upon gaps and opportunities within your current business ecosystem.