Healthcare and health insurance is a fundamental right and one of the 17 Sustainable Development Goals. Oftentimes, however, marginalized communities cannot afford traditional solutions, resulting in large groups not having access to the local healthcare system. 
This gap is the reason Allianz X, GIZ and BIMA formed the Inclusive Insurance Alliance partnership.
The partnership gives underserved consumers access to simple and affordable, mobile-delivered insurance- and health services. Additionally, it increases the overall insurance awareness and health literacy among these communities. 
By combining their experiences and competences, the partners develop innovative insurance and mobile healthcare solutions for the Ghanaian market. At the same time, the collaboration facilitates spill-over effects, and generates industry-wide best practices and regulatory frameworks to be leveraged in other countries as well.
Complementary collaboration
Each partner fulfills a different, yet complementary role. 
GIZ is a service provider of international cooperation for sustainable development. BIMA, is a mobile-delivered health and insurance provider. And Allianz is a financial services provider.
GIZ accompanies BIMA and Allianz Ghana to drive innovation and facilitate access to microinsurance with their local network of experts. With a wide customer base, BIMA contributes know-how in delivering mobile solutions to developing markets. Allianz contributes insights on low-income insurance solutions, based on its experience serving more than 46 million emerging consumers.
Doing good and doing business is not mutually exclusive
The partnership is still in an early stage and its long-term impact is yet to be assessed. However, distinctive for this partnership is the complementarity of capabilities and resources to address a systemic issue that no single actor could have solved alone. With the development of new commercial offerings for underserved communities, the partnership demonstrates how creating social impact and doing business are not mutually exclusive. 
Catering to social needs while seizing new business opportunities consolidates the long-term orientation and scalability of the partnership. 
Co-creation and co-evolution: a partnership aimed to learn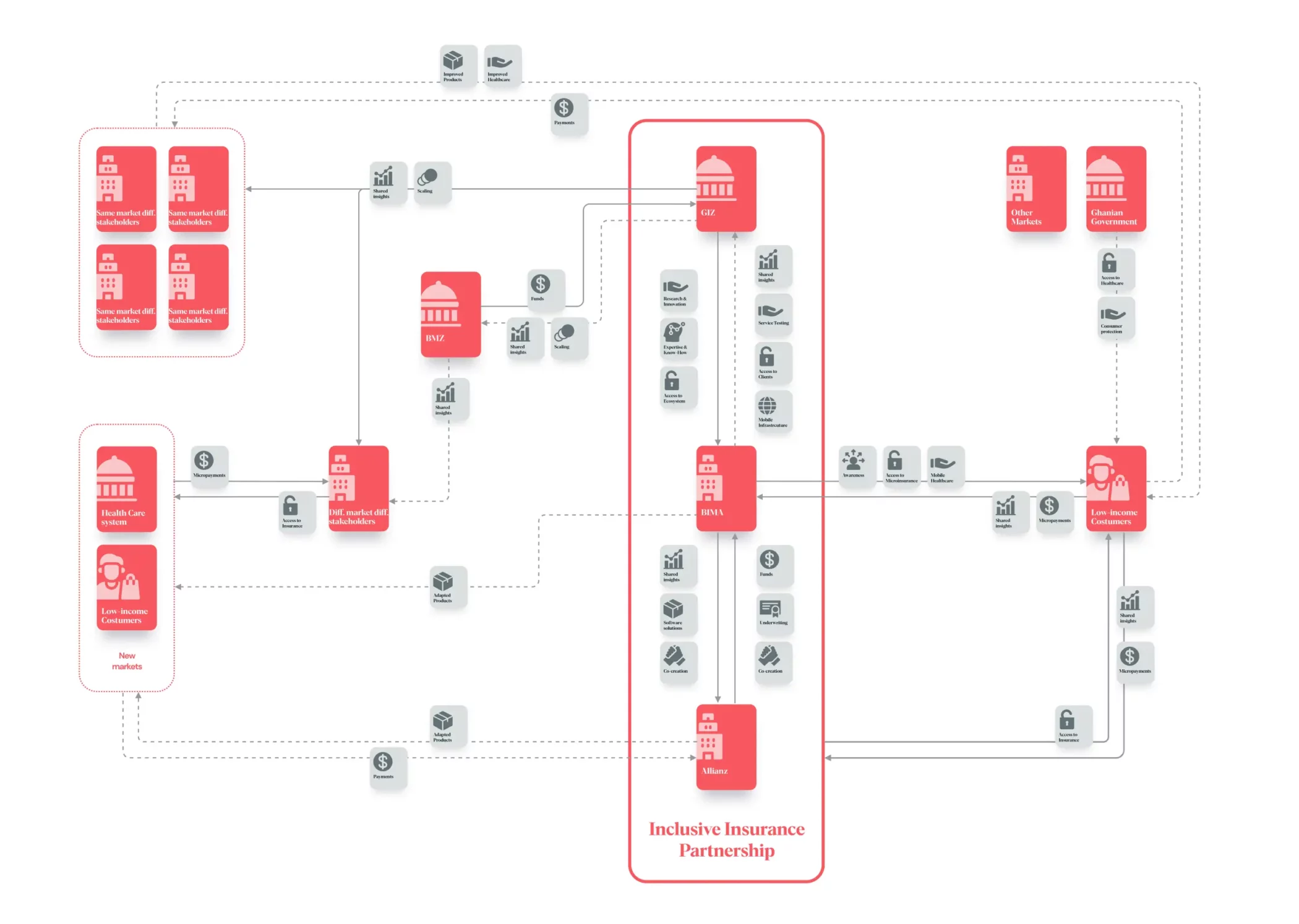 The partnership focuses on the development of new products and services for underserved communities. This is achieved through shared learning and best practices. The Inclusive Insurance Alliance project is an example of an integrative partnership. Here, partners align their missions, strategies, values, and activities to achieve the priority goal of creating social impact.
All partners share their new learnings and best practices. These insights are forwarded to external stakeholders as well, and are used to adapt existing offerings and create new solutions that address the consumer's needs.
The resulting insights are also forwarded to other stakeholders in the Ghananian healthcare ecosystem and adapted to local requirements of other communities. Moreover, the partnership formulates legal regulation frameworks focused on promoting adjustments in order to deliver new mobile solutions. This allows all stakeholders to offer more suitable products and lower the threshold for the access to these products.
Commitment builds commitment
The shared learnings embraced by all partners is not only the foundation of this partnership, but it illustrates how going beyond the exchange of resources can intensify a partnership. Meeting the UN's Sustainable Development Goals calls for mission-related learning and requires increased commitment from all stakeholders. 
This partnership shows how dedicating more resources creates more commitment to the partnership – and committed partnerships have greater impact.
When it comes to systemic change, it is important to have enough reach and network capabilities. The strategic partnership thrives on the complementarity of networks and reach. 
GIZ, BIMA and Allianz identified the resources they needed for the partnership mission, and systematically screened for suitable partners.
Identifying partnership needs
Use the partnership flowchart to to identify suitable partners and which type of partnership is best suited for you.
The difference between charity and business sometimes lies in the scale of a project. In the case of micro-insurance solutions, this holds true. Only the combination of three networks into a large infrastructure turned the project into a viable business opportunity. When setting up a partnership, consider scalability to secure long-term impact.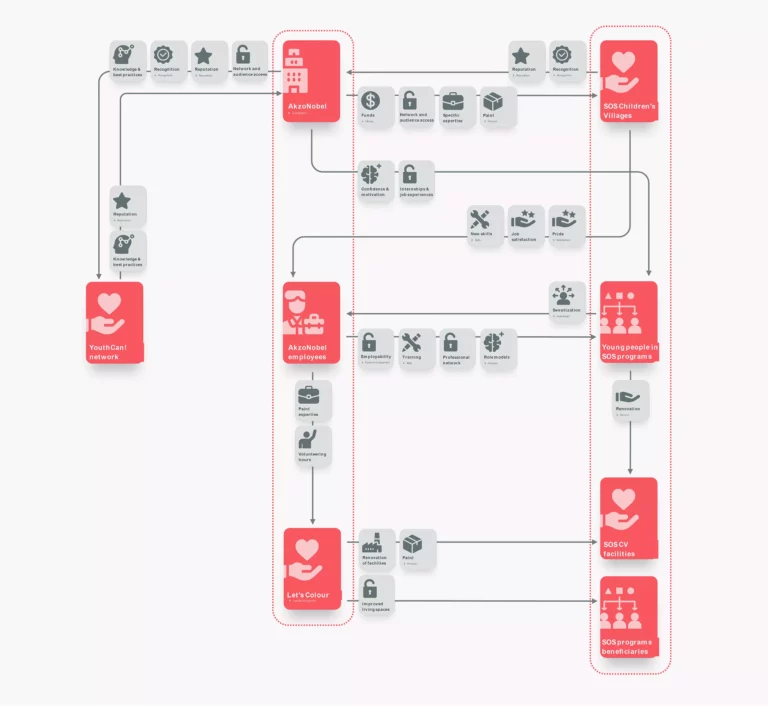 Learn more about impact partnerships
Check out our new comprehensive guide to creating business-nonprofit partnerships that drive change. Tools, examples, and tips to get you started.