Technological innovations in healthcare are changing the face of the industry. But while all eyes are on blockchain, 3D printing, machine learning (ML), natural language processing (NLP), and internet of things (IoT), we'd argue that tech is probably not going to be the deciding healthcare trend in 2020. The key factor will be shifts in consumer behavior.
Putting personal information online is the new normal. And in turn, people are becoming increasingly comfortable sharing details about their lives – including their health and wellbeing – via technology. This hasn't always been the case.

The fear of non-human led health services has been a key blocker for health tech's ability to change the market. While other industries have seen disruptive business models emerge and waves of exciting players enter the market, regulation and mistrust have slowed change in the healthcare space.

As such, we predict that the removal of these barriers thanks to rising trust in tech will finally trigger disruptive change in the healthcare industry. And providers need to be ready.
With this in mind, we've compiled a list of the health trends and patterns that, enabled by drastic changes in patient behavior, will shape the healthcare industry in 2020.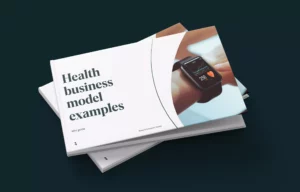 Health business model examples
Take a look at the business models used in recent years by some of the most innovative healthtech startups.
Reversing the technology gap
While trust in technology is rising, it will be dependent on the actions companies take to demonstrate integrity and put consumers at ease.

Following a wave of widely publicized scandals around data privacy and security in recent years, people have become mistrustful of big tech companies. Which, in turn, impacts the healthcare industry. A study conducted in the US in 2018 indicated that Americans didn't feel comfortable sharing their health data with tech companies. Though consumers reported trusting some with their health information more than others, tech companies playing in the health data space in general were being financially hindered. Simply put: mistrust hinders adoption.
Another factor that's led to mistrust is the general public misunderstanding of the regulations in place to protect consumer information, not to mention the lack of crucial knowledge about digital health products and services. Research conducted in the UK shows that consumers don't think digital health products are a good thing, while a Swiss study indicated that digital health is dependent on trust in order to succeed.
Personal, technological, and institutional factors all play a role in whether this trust is hindered or supported by stakeholders. Therefore, reversing the technology gap and rebuilding trust should be a key focus for healthcare providers in 2020.
They'll need to work hard to foster trust by increasing transparency, allowing patients to own and control their own data, and by demonstrating that they're complying fully with privacy law standards for the healthcare industry. Just because the tech is available, that doesn't mean consumers are willing to use it. Adoption is key – not the technology.
Examples of health startups reversing the tech gap
Startup Ciitizen is working towards giving cancer patients access to their own health records by developing technologies that facilitate this. The user can opt to share those records with their care team and even researchers if they'd like.
Sean Duffy, co-founder of Omada Health, notes that demonstrating compliance with regulations and requirements for protecting personal health information – the HIPAA, for instance – will enable digital health companies to earn trust among consumers. Omada Health is a behavioral health startup founded in 2011, which operates in accordance with all applicable privacy and data protection laws and takes patient privacy seriously. It stands to benefit individuals, those paying for care, and the system as a whole.
More real-world data (everyday data from social media, shopping, and location settings, for instance) is being captured and shared than ever before. This is a good thing when it comes to healthcare. Why? Because the more information healthcare providers have about us, the more accurate their predictability capability becomes, and the more big data companies can start using this knowledge to predict when people will get sick.
Bank transaction data, for example, can be used to understand when flu outbreaks occur. Research conducted by the University of Auckland in New Zealand revealed that it's indeed possible to track the effects of an outbreak based on changes in spending patterns in an affected area. In this particular case, the disease caused the shutdown of business in town, forcing residents to commute farther for shopping while spending less per transaction than usual.
So, with people becoming comfortable sharing health-related data, data analysis could allow for big data companies to move directly into the pharmaceutical field. In fact, several organizations are already using people's health-related information in order to predict illnesses, diseases, or medical conditions. For example, researchers in the UK have found that digital records of grocery bills can be used in predicting or identifying geographic areas with a prevalence of high blood sugar, high cholesterol, and high blood pressure. The classifier that the researchers were able to develop using grocery bills from Tesco in London has a 91% accuracy rate and the potential to be used as "a cheap and scalable tool for health surveillance."
According to Stony Brook University and Penn Medicine, Facebook posts (with owner or patient consent) can be used to predict 21 conditions and diseases. These include hypertension, diabetes, depression, and anxiety. How? They say there is a connection between diseases and language patterns, adding that Facebook posts are more reliable than demographic information in predicting certain diseases.
Examples of healthcare startups using data to predict illness
Medopad is a London-based healthcare startup supported by pharmaceutical company Bayer. The company has developed an app that compiles and analyzes health data from patient wearables, mobile devices, and medical bodies to predict chronic diseases. With the use of both big data and machine learning, the startup wants to "understand, treat, and ultimately prevent ill health". Medopad recently acquired rival Sherbit, another startup that also uses personal data collected from sensors, apps, and devices in uncovering health insights.
AIME, which stands for artificial intelligence in medical epidemiology, is a US-based startup that uses machine learning and big data analytics to predict in real-time where and when infectious disease outbreaks will occur. The end goal is to detect outbreaks in advance and keep them in check. AIME has a bot named REDINT that scours over 40 databases of weather, geographical, and epidemiological data. According to AIME's CEO, Dr. Helmi Zakariah, AIME's use throughout the healthcare sector is crucial to its success. The system will be ineffective if it does not have "a continuous stream of new disease incidence data" that it can use to continue learning. 
Real-time interactions & 5G
Another key trend in healthcare is real-time digital interactions. While video calls are currently unreliable at best, online doctor's visits may soon be possible thanks to 5G. The roll-out of the instantaneous web connections that 5G enables will make it possible for patients to be treated remotely through their computer or mobile device. And even though they'll be sharing their health data online, online appointments may feel more personal as they involve human interaction in real-time. This can make patients less hesitant, even though control is in the hands of a machine. A variety of publications in the UK and US substantiate this particular trend in healthcare towards online doctor's visits as enabled through faster 5G technology.
Some of the benefits of this development include:
Examples of healthcare startups using real-time interactions
Switzerland-based healthcare company Stuward recently launched a telemedicine application named Stuward VU amid the roll-out of 5G. The service helps connect independent medical professionals with people seeking online consultations. It was created partly to help doctors better compete with the much larger tech companies that generally have significantly larger marketing budgets and other administrative resources at their disposal.
Swiss company Eedoctors created the first virtual doctor's office using smartphones. The company established this app to enable formal diagnoses through virtual consultations, which had been a challenge for previous telemedicine companies because of bandwidth issues and other limitations. This remote consultation service is quickly becoming a prominent healthcare trend in Switzerland and facilitates online visits with general practitioners and emergency physicians.
Hospitals are hugely dependent on reliable supply chains. Therefore, they can benefit from moving into the supply chain space themselves rather than relying on external companies.
Doing so could enable nurses to spend less time fetching medications and more time caring for patients, while on-time delivery could free up more beds and potentially save lives.
Hospitals and the healthcare industry as a whole continue to be very traditional, though. They tend to be slow at adopting obvious solutions that could make everyone's lives easier.
Luckily, several sources in the public domain indicate that players in the healthcare industry, especially hospitals, are starting to pay more and more attention to supply chain management and logistics.
Because to survive and succeed in the industry, hospitals and healthcare systems find it increasingly necessary to tackle supply chain and logistical problems head-on and leverage available technologies such as blockchain, artificial intelligence, drones, and the Internet of Things (IoT).
Examples of supply chain & logistics startups in the healthcare industry
Pensiamo, a technology spinoff of the University of Pittsburgh Medical Center (UPMC), has recently developed CognitiveRx, a tool for predicting drug supply disruption risk. The tool was developed together with supply chain technology provider Premier. Powered by machine learning, CognitiveRx is a valuable tool that hospitals can use in the rapid identification of solutions related to purchasing and inventory. Jim Szilagy, chief supply chain officer of UPMC and Pensiamo's CEO, says that with CognitiveRx, patients across the United States will have a higher chance of receiving the medication they need at the time they need it. US Healthcare Provider Premier will soon offer CognitiveRx to its member health systems and hospitals.
Drones or unmanned aerial vehicles used as a solution to logistical problems in healthcare is one of the healthcare trends in the US to watch. The United Parcel Service (UPS), for example, is currently partnering with California-based drone technology startup Matternet to work on the delivery of medical samples across WakeMed Health & Hospitals' campus in Raleigh, North Carolina. The expectation is that with drone delivery, same-day and on-demand delivery of medical specimens and samples will be possible, and consequently, hospital costs will be reduced, and the patient experience will improve. It was in 2015 in Zurich, Switzerland, that Matternet first tested a drone delivery system for transporting pathology and blood samples. Since then, Matternet has significantly expanded its Swiss operations and has conducted over 1,700 drone flights to execute over 850 deliveries of patient samples.
As quality data and consumer and patient trust increase, AI will become more reliable. It's only a matter of time before a computer can be more accurate in making a diagnosis and determining treatment. As such, it's not a question of if this will happen, but when and how.
And the more trust increases, the faster AI will develop. This lack of trust is a self-fulfilling prophecy of reduced effectiveness – the more AI is used (the more practice it gets), the better it can become. However, physicians may be reluctant to implement computer diagnosis tools for fear of being replaced. And before we reach the point of trusting AI diagnoses, regulations need to be in place to enable mistakes to be tracked down.
But players in the healthcare industry have already begun using AI-apps into their operations and scanning devices. The technology is used to acquire, collect, and organize accurate medical images of a patient's history, as well as the patient's scans. AI is also being used for imaging diagnosis in genetics, labs, pathology, and other healthcare areas as it facilitates decision-making and improves processes and diagnosis. Last but not least, AI helps with diagnosis as it enables decisions to be made based on the data.
There are significant benefits and several opportunities AI, and machine learning will bring to the healthcare industry. It won't be simply optimizing monetary transactions or predicting the fastest possible route, but helping doctors to find the best treatment. Or helping to reduce the burdens put upon patients by being more precise with treatments and treatment decisions. AI and digitalization are playing an important part in:
Diagnostic precision through quantitative imaging
Personalization with intelligent image acquisition
Increased workforce productivity through assistance in automation
Clinical operations optimization
Prioritizing complex/acute cases and
Avoiding unnecessary interventions
Highly important for the use of AI in healthcare is clear guidance for its implementation. That way, companies can stay ahead of legal, ethical, and regulatory issues associated with collecting and using data. Privacy by design and by default should be the key principles driving developments. According to Jörg Aumüller, leader of the Digital Health global marketing team at Siemens Healthineers, these high standards are essential to the development of AI-powered solutions.
Icarbonxexamples of healthcare startups using ai
iCarbonX is a healthcare startup that's created a patient data platform to collect patient information, and monitor, understand, analyze, and improve the lives of its users through technology. The platform uses AI combined with the patients' medical history, behavioral, and biological data to create a map of human health based on information collected from patients all over the world. The information collected is then used to learn from diseases, classify conditions, make more accurate diagnoses, and provide better treatments.
PathAI is one of the top startups disrupting the healthcare industry with AI. PathAI's goal is to use AI to improve cancer diagnosis and solve pathology problems. PathAI uses data collected over many years and combines it with AI to integrate technologies that improve decision-making and treatment. According to Adhitya Khosla, CTO of the company, PathAI will help pathologists through algorithms that extract images from the clients' blood, tissues, or scans to detect cancer, decreasing the rate of human error, and detecting cancer earlier.
Struggling to build trust?
Talk to us about a business design sprint – we'll help you uncover non-obvious solutions.
Health tech with a human touch
2020 will be an interesting year when it comes to healthcare trends. Of course, healthcare technology will continue to influence the industry, but the real healthcare trend to watch is the inevitable change in consumer and patient behavior.
Healthcare companies, in particular healthcare startups, will need to focus on developing and building consumer and patient trust. Big organizations who may not have technical capabilities can look to partner with (or acquire) external parties to help accelerate adoption. But in doing so, they should seek to understand the consumer impact of the technology being implemented and proceed only if it's beneficial, not just because it's shiny and new.

No longer should it be only about treatment and diagnosis but also about providing a reliable, easily accessible, and user-friendly patient environment with short communication lines and personal interactions. Not only for more accurate analysis, but also faster drug development cycles and potential alternate therapy rollouts. And once people start noticing those changes, they'll slowly but steadily embrace the benefits of going digital.
Mark our words: 2020 will be the year to watch for health tech with a human touch.
Interested in Life-Sciences?
We partner with leading pharmaceutical, biotech, and medical technology companies to design patient-centric solutions and sustainable business models that increase the quality of care.