The average human being will outlive most big corporations today. In 1958, the average life span of companies on the S&P 500 was 61 years. That number has since dropped to less than 18 years.
Today, corporate innovation isn't simply about creating new value; it's a necessary investment to react to changing trends and fend off disruptive threats. As businesses need to move at faster and more agile speeds in response to the global pandemic, the spotlight is now on another strategy in the innovation playbook – corporate venture building.
What is corporate venture building?
In corporate venture building, established companies build a separate venture from scratch. A new brand, team, revenue stream, or P&L (profit-and-loss) is created to target untapped opportunity spaces – new customer segments, technologies or capabilities – outside of the existing business.
From Google to Microsoft to GE, venture building is an increasingly popular approach. Profit is one reason. Companies partaking in long-term diversification outperformed companies that did not by 54 per cent in shareholder returns. Furthermore, large corporations have many existing assets and resources. This, paired with the agility of startups, unlocks radical growth.
Despite these great returns, many companies are unfamiliar with corporate venture building. Why do it at all? That's a question best answered by surveying the options at hand.
Many corporate innovation labs have sprouted up over the last decade, particularly within the fintech sector. In these labs, cross-functional collaborations among intrapreneurs can spark new ideas and concepts within the corporation. However, these ideas aren't always implemented as existing business priorities command more attention. As a result, ideas often revolve around improving existing offerings instead of breaking new ground. A clear strategy is needed to circumvent "innovation theatre", where corporate innovation initiatives don't translate into long-term results.
Corporate venture capital is another approach, where time and capital are invested in promising startups that pave the way for new technologies or markets, potentially leading to an acquisition. However, these deals can be expensive and face integration challenges, as the startup and corporation may have different cultures and governance styles that need to be bridged with a delicate hand.
Meanwhile, corporate ventures are fully aligned with the corporation's mid- to long-term interests from the start. This does away with complex integration issues. The venture team is empowered with ample resources so it can make decisions at startup speed and agility, without the challenges of a corporate hierarchy – delivering faster returns on investment. Just like a startup, the team has the mandate to explore radical ideas and business models that solve new customer needs, helping the business diversify from the risks of disruption. Packaging these ideas in a new brand helps win over new customers and advocates, independent of existing perceptions of the core business.
Whether it's creating a lab or a venture, corporations need to first define their strategy and intent before embarking on their innovation journey. In our experience, organizations with a higher innovation maturity are most suited for corporate venture building. That's because success in corporate venture building isn't measured by traditional metrics, but by a willingness to "test fast, fail fast". These organizations are also more likely to see failed ventures as valuable lessons that bring them another step closer to the real breakthrough.
Getting the pieces in place
In venture building, results are not always immediate or visible. What's more, there are financial risks that need to be borne over an extended period of time. While leadership commitment from the CEO-level down and stakeholder buy-in is important to push through these ups and downs, businesses may also need to prepare themselves for a different set of challenges.
Certain corporate cultures may also experience higher levels of power distance, where employees defer to management direction and stick closely to the boundaries of assigned tasks. As a result, employees may shy away from speaking truthfully and openly about venture ideas put forth by management, even if customer feedback is poor. Collective effort is needed to build psychological safety. Ideas improve with objective criticism, so leaders and employees can work together to prioritize candor over hierarchy when it comes to innovation.
Viewing failure as a bad outcome may also hold employees back from experimentation and risk-taking. Instead of perfecting a single product, venture building rapidly iterates one minimum viable product after another in search of product-market fit. This "move fast and break things" mode of operation can be at odds with the culture of reliability needed in the core business to generate steady returns, so getting the talent and culture right is essential.
So, what makes a good venture team then? For starters, a safe and open environment for experimentation is absolutely vital. Ventures should also be founded and run by cross-functional teams for a diversity of ideas and skillsets. Nevertheless, too many stakeholders and voices can also inhibit effective decision-making. A design thinking methodology acts as the north star to ensure customer needs are the top priorities, and that ideas are considered successful when validated by customers first.
Most importantly, the motivation for venture building needs to come from senior leadership, so that all necessary elements – corporate strategy and opportunity areas, acceptance of failure, and commercialization through existing business channels – are aligned.
Finally, a global survey by research firm Startup Genome shows that 11 in 12 startups fail. To address this, corporations should avoid putting all of their eggs in one basket. They can create multiple venture teams to balance the risks and increase the odds of success entailed with each individual venture.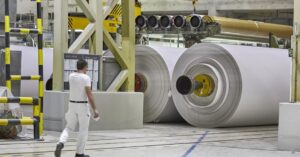 Together with Board of Innovation, Sappi set out on a multi-year growth strategy, across 3 horizons. The strategy was executed by incubating innovation and new business creation initiatives across the different horizons.

This resulted in 5 successful new businesses being created. One high-tech IOT business with considerable funding in Silicon Valley, two new business lines revolutionizing the packaging and plastics materials industry with innovative paper-based solutions, and two ventures remaining undisclosed due to confidentiality. To date, Sappi keeps on adding new product and business lines to their growing portfolio – as such, realizing their vision in transforming from a graphics paper enterprise to a sustainable woodfibre products and solutions company.
There is no one-size-fits-all model for corporate innovation. With the right mindset, corporations can use venture building to do more than win market share and unlock innovation within the organisation. They may also propel the next unicorn from within.