Innovation Transformation is not a plus, it's a business imperative. 50% of today's S&P 500 companies will abandon the list within 2027, a 
study suggests
.
In an unpredictable environment, companies can't rely merely on spotted initiatives to steer innovation, aimed to well- defined change. Instead, a transformation program is needed. This guide will lead you through the steps to start an effective corporate transformation.
5 examples from this guide.
1. The average lifespan of s&p 500 companies.
The average lifespan of S&P 500 companies has reduced from being listed for over 60 years in 1920, to 17 years today.
In the last 10 years, design-driven companies have 
outperformed the S&P 500 by 211%.
2. Key steps of transformation.
Collaborations between startups and corporates find their raison d'être in the mutual exchange of know-how and strengths. Here are some examples.
The atmosphere in the company is the key to success, change the culture for better productivity.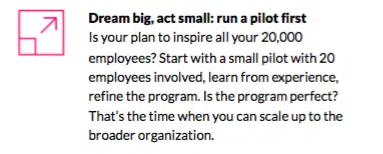 If you want to achieve more start with small things.
5. Internal capabilities.
Build your internal capabilities not to depend on consulting companies in the future.