I had the privilege to join leading pharmaceutical brands and industry leaders at Reuters Pharma 2023, the world's largest life sciences conference. This was a platform for in-depth discussions on the most relevant topics, challenges, and strategies in the healthcare industry including innovation in commercial models, digital health, patient engagement, medical affairs, and more. Reuters Pharma brought together the brightest minds in life sciences to shape the future of healthcare. According to pharma industry leaders, here is…
1. Healthcare needs to embrace a visionary approach to patient engagement
In a future healthcare system, patients will be active partners in shaping their treatment journeys. The pharmaceutical industry will listen to patients, respect their unique needs, and incorporate their input throughout the entire medicines lifecycle. Patient engagement is more than just a buzzword, it's a fundamental shift towards involving patients in the development, evaluation, and improvement of medicines. The recent Reuters Pharma 2023 conference emphasized the importance of this approach. By fully embracing patient engagement, we can unlock the full potential of patient-centered care, improve outcomes, and create a healthcare system that values and includes the patient perspective at every step.
2. Healthcare needs to proactively address causes of health equity or it will only intensify
Industry leaders highlighted the need for the pharmaceutical industry to proactively drive health equity. This involves recognizing and addressing social determinants of health, collaborating with stakeholders and promoting preventive measures and education. By taking proactive actions, the pharmaceutical industry can contribute to creating a more equitable healthcare system for all, regardless of background or social circumstances. The discussions at Reuters Pharma 2023 emphasized the importance of prioritizing these topics and working towards a more inclusive and equitable healthcare system.
3. Healthcare needs to embrace the positive impact that AI can have on patient outcomes
Imagine a world where AI's positive impact on patient outcomes is fully embraced by the healthcare industry. Pharma leaders emphasize the need to proactively plan for the transformative potential of AI. From automating tasks to personalizing treatment plans, AI can revolutionize healthcare. It's important for stakeholders to come together, embrace AI's positive impact, and shape its adoption in healthcare. By planning for integration, we can improve patient outcomes and enhance operational efficiency. Let's be active participants in harnessing the power of AI for the benefit of patients and healthcare providers alike. Together, we can shape a future where AI is a proactive force for positive change in healthcare, empowering patients with cutting-edge technology.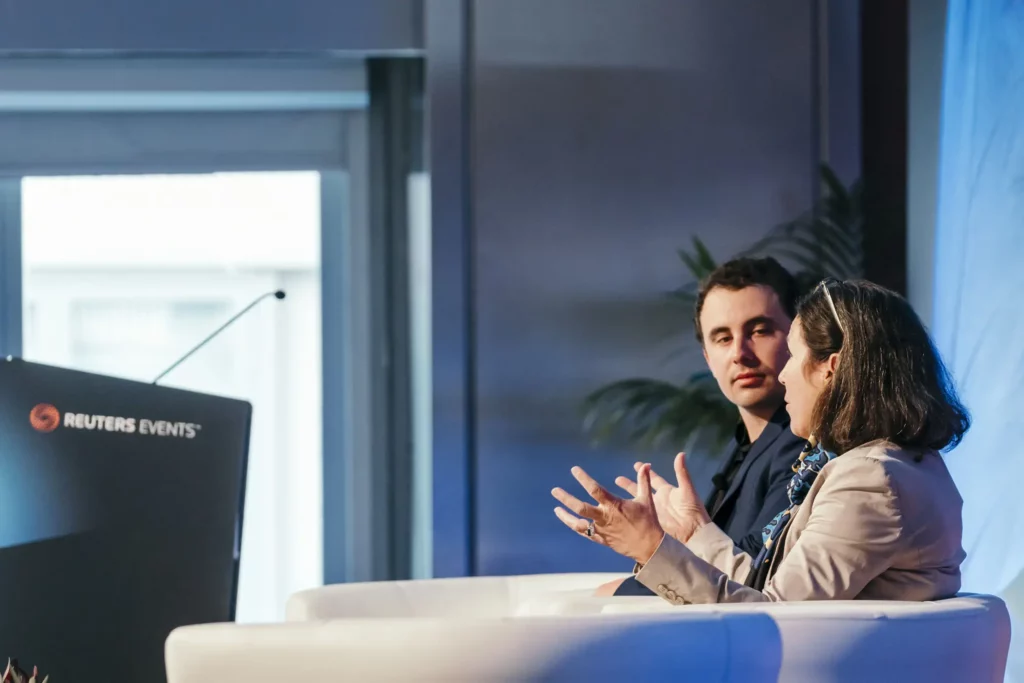 4. Healthcare needs to focus HCP engagement on adding value and helping them overcome challenges
Industry leaders emphasized collaborative healthcare provider (HCP) engagement at the event. Commercial and medical teams work together towards a shared vision, leveraging insights from both sides. By combining expertise in market dynamics and scientific insights, the industry aims to develop innovative strategies that meet HCP needs. This collaborative approach recognizes the common goal of improving patient outcomes. With a culture of collaboration, the pharmaceutical industry empowers HCPs to overcome challenges and provide optimal care to patients.
5. Healthcare needs to work together to create a more resilient healthcare system
At Reuters Pharma 2023, industry leaders emphasized collaborative efforts among stakeholders for a resilient healthcare system. Key drivers include knowledge sharing, joint R&D, and aligned strategies. Pharmaceutical companies commit to collaborating with healthcare providers for education, resources, and patient support programs. Proactive collaboration aims to ensure availability of safe, effective, and affordable medicines, contributing to a resilient healthcare system.
The insights and learnings from the Reuters Pharma 2023 conference leave me inspired and optimistic about the future. As we strive to "make what life needs next" through our mission, we are proud to be part of the pharmaceutical industry's efforts in proactively addressing health equity, harnessing the power of AI, and fostering collaboration among stakeholders. By working together, we can contribute to a healthcare system that is more inclusive, efficient, and resilient, providing patients with the care they need and deserve. Let's continue to innovate and make a positive impact on the future of healthcare, keeping our mission at the forefront of our efforts.