As Millennials and GenZ go non-alcoholic, companies will need new business models
Over the past three years, the adult non-alcoholic drinks category has grown as never before, both in terms of sales and in the range of options:
The no- and low-alcohol market rose to over $11 billion last year, up 38% since 2018, with no-alcohol growing faster than low-alcohol in most markets. Sales of non-alcoholic drinks rose 21% from 2021 to 2022, to $395 Million, with most of that Non-Alcoholic beer ($329 Million). Millennials are currently the biggest consumers, but GenZ looks like an even bigger market.
Hemp and Adaptogenics have emerged as product categories even as the quality of De-alcoholized Spirits, Wines and Beers have all markedly improved.
There are now more than 20 powerful brands and a dozen powerful retailers, with their products getting into more and more venues.
These trends reflect a broadscale cultural shift in which people (younger generations especially) are examining their relationship with alcohol. This is creating opportunities not just for greater sales and new products but also for new business models that focus on facilitating, curating and providing social experiences for this audience. And as with all innovation, it's essential to know the ecosystem.
Who's driving this shift?
The Sober and Sober-curious: An existing baseline of sober humans (across a spectrum) have been waiting on the sidelines, and are now asserting themselves more openly and directly.
The Young: Gen Z and Millennials are drinking less, and looking for ways to connect in-person more authentically (in contrast to their obligatory online personas). The clicks leave a void and they know it!
The Health Seekers: Across generations, there is a greater focus on wellness and holistic health. For many people, the pandemic spurred reflection on life and habits and led to wanting to live better, more in tune with their authentic selves. There has been more of a focus on mental and emotional wellness, particularly on reducing anxiety; that focus has been bolstered by social media platforms and communities where the challenges and benefits of that focus are shared (including, most powerfully, that it's ok to talk about mental and emotional well being).
Moderators: many of the consumers who purchase nonalcoholic products still drink alcohol but are actively looking to moderate their intake. Many of these folks intersect with or are a part of the "The Health Seekers" segment as well
Women, in particular, are driving these trends above and are being more "public" about it.
Megan Klein, founder of the nonalcoholic mocktail company Little Saints, points out how today's youngest adults are different than those that went before them. . "About 42% of millennials drink on a regular basis, and only 21% of Gen Z drinks on a regular basis," notes Klein. "Anecdotally, you probably know some Gen Z too, they think drinking is gross. I've heard a Gen Z describe drinking as Boomer technology. And so as generations drink less and less, at a rapid rate, we're seeing a shift in culture, because they're much more health conscious."
The desire to reduce anxiety is a driver not just for Gen Z, but also for Millennials, Gen Xers and older generations who have figured out that drinking didn't really help with their anxiety in the long run, but rather hurt it. For instance, Klein observes: "The anxiety economy was already there pre-pandemic; we were all using our meditation apps and squeeze balls and trying different ways to address our anxiety. But it wasn't until the pandemic that [we] made the connection between, "Oh, I am drinking too much and that is actually causing me more anxiety."
New categories, brands & retailers (all touting improved products)
The typical current categories of non-alcoholic products can be found on the website of this leading retailer:
This is a standard breakdown (Spirits, Apertifs & Ready-To-Drink, Wines & Proxies, Hemp & Adaptogenics, Beers & Ciders, Mixers). But more than in other sectors, the categories are contextual to the audience / consumer persona. For example, someone just doing Dry January, or a "Sober Curious" person who is exploring their relationship with alcohol, would identify with this categorization; but someone who is in some kind of "recovery" might be very concerned about the "Spirits", "Wines" and "Beers" labels and would likely require more education or want a different taxonomy.
De-alcoholized Spirits, Wines and Beers have struggled in the past because they didn't taste great. Product quality has been particularly difficult for Spirits and Wines because removing alcohol removes body, mouthfeel and bite. But there are more and more great options. For instance, Proxies wine occasion alternatives add body using tannins from tea. Athletic Brewing is creating excellent non-alcoholic craft beers.
Right now, very few Spirits are designed to drink neat (Spiritless 74 Bourbon is a notable exception). This means that consumers, especially new consumers, require even more education in how to successfully use the products (i.e. how do you make spiritless cocktails and mixed drinks).
The biggest medium and long-term opportunities for product innovation probably are related to improving ongoing processes – who can continually improve their alcohol removal process to leave as much as substance (depth, body) as possible. Mastering non-alcoholic fermentation offers another powerful opportunity to win.
In the shorter-term, brands that support occasions which are underrepresented or not sufficiently represented so far have a tremendous opportunity to gain market share. For example, celebratory moments – the toast, the shot, the congratulatory drink – are still a set of occasions that can be developed further. One brand that is focusing on these occasions is Prima Pavé – they literally have a section of their website called "celebrate", along with a number of excellent non-alcoholic sparkling wines.
Other powerful brands include:
Powerful retailers include:
Meanwhile, adult non-alcoholic drink products are making it into more and more venues, but it's still a slow process as hospitality companies try to gauge frequency of demand, and have concerns about cannibalizing their own alcohol sales. That said, Hospitality has recognized the growing demand, and is responding, particularly during Dry January when they can capitalize on momentum in what is a traditionally slow month.
There are a very, very broad spectrum of people participating in the Alcohol Free Wave. While they share certain traits, their motivations and sensitivities vary wildly:

On one end of the spectrum are the "OG 12 Step Recovery" people, though here there is a "spectrum within this end of the spectrum." Their driving factors are:
How unsettled are they by the concept of anything that resembles an adult alcoholic beverage, particularly beverages that have been de-alcoholized? For those who are really unsettled, the affinity statement would be "non-alcoholic drinks are for non-alcoholics," and as a result they are not strong consumers for this category, although they may eventually be open enough to try products that are not "de-alcoholized."
How strongly, how rooted, do they feel in their sobriety? Those that have a solid foundation (usually fortified by some amount of time) and who aren't purists (see the bullet point above) are more likely to participate.
How social are they? Introverted or extroverted? For those that are more extroverted, and that like to participate in different social occasions, these products have stronger appeal.
How much of their work is socializing? For those where it's a big part, they'll be more eager to participate.
How much do they want to participate in "culture"? For instance, those who love cooking, restaurants, even art shows or museums, will be more inclined to participate based on the craft of the product and the extent to which adult beverages are woven into their cultural pursuits (of choice) .
On the other end of the spectrum are the "Sober Curious" people who are just taking a night or a week or a month off. Their driving factors are:
Health – prompted either by an "incident" or as part of lifestyle.
Curiosity – "what would it feel like to take the night off? Or to cut down a bit?" They want to understand themselves better and are therefore exploring in a very tiny way what it would be like to readjust their relationship with alcohol.
Social habits – socialization and participation are important to them. They don't want just water, they want something interesting, exciting, nuanced, ADULT, and thoughtful.
Between those 2 extremes of the spectrum is where the bulk of personas are:
Lots of people, for various reasons (though most are related to mental, emotional or physical health) have stopped drinking partially or completely;
They may not fall into a traditional "recovery" persona, but they are instead sober for their own reasons, motivations and benefits;
These people are at different stages of life (agewise), but are generally seeking to be the best version of themselves, to live the best version of their lives, and have come to the conclusion that alcohol isn't enabling that for them.
Building business models around social experiences
So far, overwhelmingly, the developmental and innovation focus in this industry has been on products. Most companies focus on product first, and product innovation, since it is perceived as (and most often is) the shortest path to revenue. That said, if we think about the Jobs To Be Done for consumers across the spectrum here, one of the most pressing is "Feel included, connected and joyful in social activities and occasions". When we look at products through the lens of this Job To Be Done, you can see them as tools that help towards successfully completing that Job To Be Done, but not the whole picture. So it's worth asking:
Can you simply swap out alcoholic drinks for non-alcoholic drinks and expect people to have the same social experience? While this might be true for some people, on some occasions, for the most part this isn't true. Alcohol is tightly woven into our culture and performs MANY social Jobs To Be Done, including:
Social lubricant – either emotionally (courage stoker) or functionally (ice breaker or excuse people use to connect with one another – "can I buy you a drink?")
Social currency – a form of exchanging greetings, thanks, affection, power ("I'll buy you a drink" or "Let me get you a drink")
Amplifier – when you add alcohol, you get unexpected and increased social activity: people do things they wouldn't otherwise, and this creates memories and bonds (and sometimes trouble)
Means of induction or rites of passage – including between childhood and adulthood
The main activity or entertainment – "let's head to the pub" or "I'll bring a bottle of wine"
Tool for rituals – i.e. taking a shot as celebration, a toast
In designing comparable experiences enabled by adult non-alcoholic drinks, one needs to ask:
How are social experiences and social environments the same, or different, if you remove the alcohol?
How can you create alternative forms of energy exchange and enhancement without alcohol?
How will people connect and bond?
How do physical spaces and experiences change or stay the same – what kinds of social spaces need to be created?

These are ambitious design challenges, but we think there will be big opportunities for companies that focus on creating, facilitating, curating and providing social experiences for this growing segment.
Right now, one of the most popular models is a "Pop-Up" bar or event, and there are also some more permanent "bar" locations. Some purveyors include:
Innovating for the experience ecosystem
As the above questions and examples illustrate, there's still so much opportunity to examine and innovate for experience. An essential part of that business model innovation work is to understand the ecosystems that are developing around the cultural shift. What are the new Business Models that can support these consumers?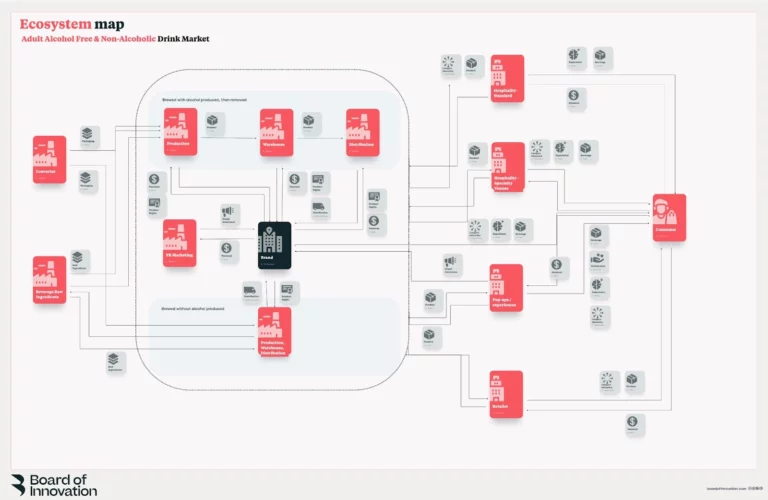 In the Ecosystem Map above, we've laid out the developing ecosystem for adult alcohol free and non-alcoholic drinks. This Map helps show the business model opportunity that could be based upon one type of value exchange: "category education" — putting in play the Brands, Hospitality Venues, Pop-Up Creators, and Retailers who can educate consumers (and each other) regarding new products and how to use them.
Symbiotically, consumers across the spectrum are telling these stakeholders their preferences, motivations and desires through their behavior and feedback. Beyond products, this value exchange offers the opportunity for companies to create, deliver and capture value by helping to build the new social fabric that is one of the outputs of this behavioral change. For example, instead of only creating products, a product company might co-create with consumers, and partner with hospitality companies, to create new venues that serve as the 21st century alcohol free social centers – an intersection of social, health and product exploration. This model could create and deliver value for customers along multiple dimensions (social, wellness, culture) of their life.
From what we see now, the non-alcohol category has high growth potential. It might have a similar trajectory to hard cider or other recent beverage trends. But unlike some of those other trends, the mix of consumer motivation, ever-improving products and shared experiences could be a recipe that gives this movement legs for a long time to come.
At Board of Innovation, we make what life needs next. We imagine the products, services and new businesses that consumers need tomorrow and create them today. Reach out to Evan Madden-Peister, Principal Consultant if you want to discuss the potential within the adult non-alcoholic drinks category.